The advanced setting of the Post Timeline will enable you to control the post timeline in a more advanced and robust way. See the attached screenshot below to understand about the settings and I'll explain all the seconds after that.
Order: This is the very first setting field in advanced settings. It will let you order all the posts in the timeline according to the published date. You can either display the post timeline in ascending order or horizontal order,
Date Formats: The date format can also be changed in date/label settings. There are many options available according to the WordPress standard to format a date.
Post Description: This setting let you select one of the options from 'Summary' or 'Full'. Selecting 'Summary' will only show the excerpt of the post whereas selecting 'Full' will show the excerpt of the post if available or show the entire post otherwise and a link to the original post.
Description Length: Description length option will let you adjust the length of the description. This option is only available when the 'Post Description' is set to 'Summary'.
Image Size: The image size settings can be used to set the size of the image in the post. There are 4 options available in this setting; Thumbnail, Medium, Large and full.
Read More Button: Enabling this will display the "Read More" button in the post description. This setting is only available when the 'Post Description' is selected to 'Summary'.
Read More Button Text: This setting will let you customize the button text for "read more". This is only available when the previous settings are enabled and 'Post Description' is set to 'Summary'.
Post Month: As you can check the screenshot above, post month is displayed at the top of the story. This setting will let you hide the post month for the timeline.
Show Icon: All the icon displayed in the centerline of the timeline can hide from this setting.
Select Icon: A bootstrap library icon can be selected through this setting. This setting is only available if the previous setting 'Show Icon' is set to 'Show'.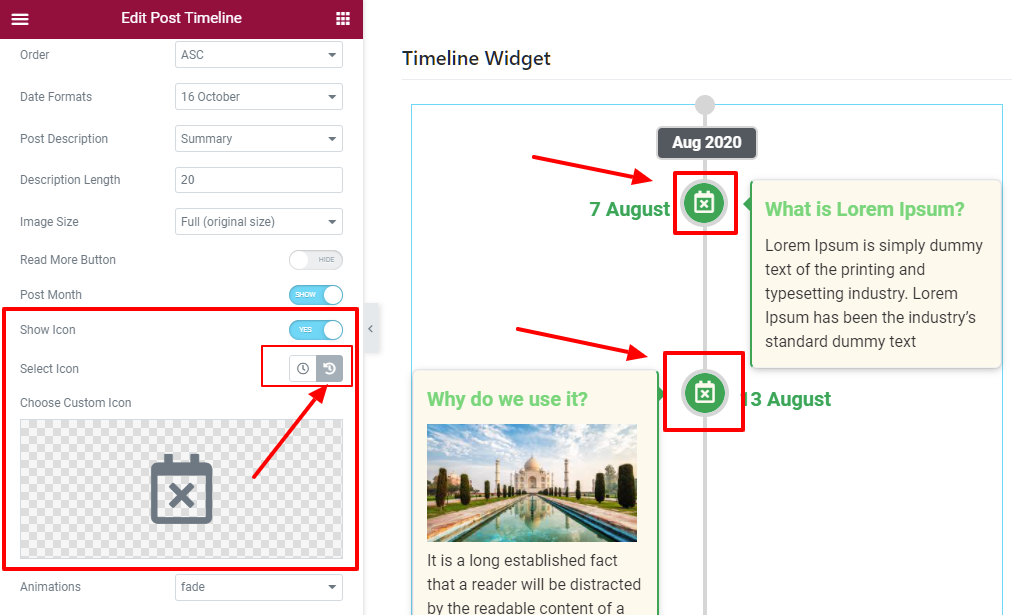 11) Animations: This field will let you select an animation that runs over all the timeline post when the story shown on the page. Check the screenshot below for a better understanding. Check the animated image below to see how the animation settings work.
Here is the video tutorial below that shows the plugin in action with all the advanced settings described above.
All the settings works similar for the horizontal layout but just for better understanding of the layout and it's element, below is the screenshot pointing the elements in horizontal layout and settings panel.